Discover the Refreshing Coolness of Myle Drip Ice Mint – 2600 Puffs of Vaping Bliss!"
Myle Drip Ice Mint 2600 Puffs is perfect for those Dubai summer days. The cool effect of mint mixed with ice is a pure refreshing vaping joy.
Myle Drip Ice Mint is the ultimate vaping experience that will leave you craving for more! With an impressive 2600 puffs per disposable device, this sleek and convenient vape is perfect for all your on-the-go needs. Say goodbye to the hassle of constantly recharging or refilling, and indulge in the smooth and refreshing flavors of icy mint with every puff.
What sets the Myle Drip Ice Mint 2600 Puffs apart is its focus on delivering unmatched benefits. The icy mint flavor is designed to tantalize your taste buds, leaving a crisp and invigorating sensation with every inhale. The refreshing menthol undertones provide a burst of freshness, perfect for hot summer days or when you need a quick pick-me-up.
Say goodbye to complicated setups and messy leaks. The Myle Drip Ice Mint 2600 Puffs is incredibly user-friendly, featuring an all-in-one design that requires no assembly or maintenance. Simply open the package, take a puff, and enjoy the satisfying vapor. The slim and sleek design fits perfectly in your hand, allowing for discreet and convenient vaping wherever you go.
With its powerful Myle Drip Ice Mint 2600 Puffs Mint lasts longer than most other devices on the market, providing you with extended usage without the need for frequent replacements. Whether you're a vaping enthusiast or a beginner looking for a reliable and flavorful option, the Myle can last up to 2600 puffs are a perfect choice.
Experience the ultimate vaping pleasure with Myle Drip Ice Mint 2600 Puffs- the perfect blend of convenience, flavor, and satisfaction. Don't miss out on this premium vaping experience. Order yours today and elevate your vaping game to new heights!
Order now and enjoy the cool, refreshing sensation of Myle Drip Ice Mint 2600 Puffs. Grab yours today and indulge in the ultimate vaping pleasure!
Myle Drip Mint Ice 2600 Puffs Features:
Flavor: Mint, Ice, Menthol

Salt Nicotine: 2% / 20mg

USB Type-C Charging port

Battery Capacity: 850mah (rechargeable)

Mesh Coil Technology

Puffs: 2600 puffs Approximately

Pack of 1 device
Check out all Myle disposable pods
Myle Drip 2600 Puffs Details:
If you're looking for an easy-to-use and enjoyable vaping experience in Dubai, you should check out Myle Drip 2600 Puffs. This disposable vape is perfect for people who want a convenient and hassle-free device.
The Myle can last up to 2600 puffs with its long-lasting battery and pre-filled 6ml e-juice. Plus, it comes in a range of delicious flavors that cater to different taste preferences.
Whether you're a beginner or an experienced vaper, the Myle Drip 2600 Puffs is a reliable and high-quality option that's easy to carry around because of its compact size.
Myle Vape is dedicated to providing its customers with innovative and practical disposable vapes. That's why they're one of the top brands of disposable vapes in Dubai.
Overall, the Myle Drip 2600 Puffs is a great choice for those who want a convenient and enjoyable vaping experience in Dubai. Try it today and see for yourself the convenience and satisfaction that Myle Disposables can offer.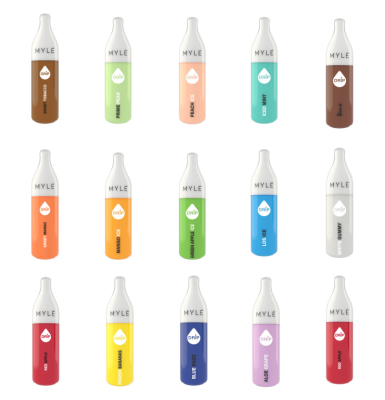 About Myle
Myle Vapor is a company that has made a name for itself in the world of vaping, particularly in Dubai and the UAE. As someone who lives in Dubai, I can attest to the fact that Myle in Dubai is one of the most popular vape brands in the city. The company is known for its high-quality products, exceptional customer service, and innovative approach to the industry. Whether you're a beginner or a seasoned vaper, you'll find something to love at Myle Vapor. They offer a wide range of products and accessories to suit every need and preference.